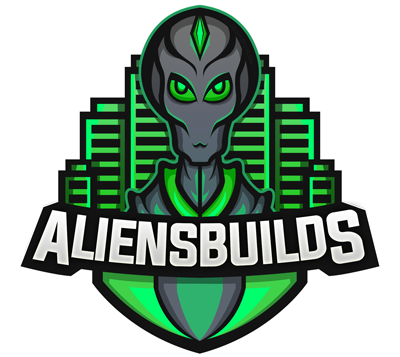 LAST UPDATE: 19 / Feb / 2022
INDEX
A. Introduction & overview
B. Products
C. Purchased Premade Digital Good(s)
D. Shipping
E. Refund Policy & Chargebacks
F. Branding & Copyright
G. Agreement
A. Introduction & overview
1) The "Terms of Service", hereinafter referred to as "ToS" are the terms and conditions compiled below for the safe and secure trading between AliensBuilds and all Clients. It is our responsibility to make you aware of these terms and conditions in every transaction conducted under our name, which includes all of our pre-made products in our stores and platforms where we sell these products. Links to our official stores are provided below for reference.
2) By visiting any of our products, websites, discord server you agree to these ToS. If you do not agree to any of the terms, you may not access any of our platforms or products. These ToS apply for as long as you are using services from AliensBuilds. This applies to all premade products purchased and use.
3) You may not claim any work from our shop as your own. This includes claiming any build / setup / configuration / product as your own (i.e. a render).
4) You understand that the images provided of the products are in-game pictures (some using shader packs to enhance the products), and some renders. When purchasing any of our products you agree that you are happy with the amount of images provided – and understand the build you are buying.
5) Once you have made a purchase you will be emailed a download to the product or you can download from our site from My Account tab panel.
6) We offer information about the construction version in the title or in the construction information so it is your problem if you do not read this information in detail.
7) You understand that you must come to us if you have an issue before contacting any other party.
8) All products will be provided as a .schematic or a world zip file. Each map has its own page with all the information where it is clearly specified what you will receive. The buyer has to check this himself. If you have any issues with this format we can help you to convert it for a fee. (Extra cost)
9) We have a strict refund policy. Once a resource has been purchased no refunds can be made. More information is in our refund policy.
10) Any order that exceeds 25% of the store's current stock is considered leak buy for leaks builds. (The money will be withheld)
11) We only work on java edition, we cannot be responsible for versions like bedrock edition or pocket edition because we do not work on these platforms.
12) List of our official stores where you can buy our products:
a. AliensBuilds Store
b. Chunkfactory
c. Polymart
d. The BuildStore
e. Sketchfab
We are not liable for any tangible or intangible damages caused by you accessing our premade builds in any other way, such as illegally.
B. Products
1. Premades: Builds that have been previously created by our team or that we have a license to re-sell. There is no waiting period for these projects and you will receive the schematic/world save file immediately after payment is completed. Premades can be exclusive, which means only one person can buy it. Also, they can be non-exclusive, where everyone can buy it.
1.1 Exclusive resources:
– The exclusive rights give you all the rights to the construction except credits rights. (You must still credit AliensBuilds as the original creators)
– Resell rights only allow you to resell a product. They do not allow you to claim the work as your own, and you must still credit AliensBuilds as the original creators.
1.2 Non-Exclusive resources:
– You may not resell any non-exclusive builds from our shop, or redistribute them in any way.
– You will not be able to exchange the product once purchased, either at AliensBuilds or anywhere else.
1.3 Free resources:
– You are not allowed to distribute free resources to other communities & stores & personal pages & leaked pages. (Only the owner has these permissions)
– You can use free builds for personal use.
– You're not allowed to sell free resources or use it on sell configs.
– You understand that all free products are created in Minecraft version 1.8, unless stated otherwise.
2. Custom projects: Projects created just for you. Custom projects are created to your specifications and may take longer to deliver, but they are built in a style to your taste and assembled entirely to the theme you want. A number of creators can be assigned to custom projects, depending on the size and skills of the creators themselves.
C. Purchased Premade Digital Good(s)
1) Your purchase of any of AliensBuilds' premade products does not give you any right to claim ownership of that product. This means that you may not pass off the products you purchase as your own or claim ownership.
2) Distribution of any products purchased is considered illegal and any violations will be dealt with through legal action. Similarly, downloading from third parties is considered illegal and can cause major complications and legal problems for the user if it is proven that the user has not licensed the product and is using it illegally.
3) Reselling is not allowed under any circumstances. You may not use the products in premade setups and you may not use them for commercial purposes (meaning to make money from the sale of our products).
D. Shipping
1) Delivery of all products takes place in an online environment. This means that there is an immediate download option for premade products after payment is completed. This can usually be done by using the "Download Now" button or something similar.
E. Refund Policy & Chargebacks
1) All purchases you make from AliensBuilds are final. The files you will receive up on purchase are digital files that are available for immediate download. Under no circumstances you are not entitled to a refund for premade builds.
2) There shall be no attempt to refund or claim that any payment made by AliensBuilds is fraudulent. In the event that you choose to attempt to chargeback or claim a payment as fraudulent, we will consider that attempt to be fraudulent. Along with this, if you use someone else's details to make a payment and that person attempts to reverse the payment or claim it as fraudulent, this will also be considered fraudulent and you will be liable for it. We reserve full authority to use any means necessary to recover losses.
You can find more informations about refund policy here.
F. Branding & Copyright
1) We, AliensBuilds, own the copyright even after your intervention or intervention by a third party. This means that you do not have the right to redistribute or treat as your own any files that you have received in connection with AliensBuilds, that have been provided to you automatically or by our authorized persons (management).
2) The subject matter of copyright is a literary work and other artistic and scientific work which is the unique result of the creative activity of the author and is expressed in any objectively perceptible form, including electronic form, permanently or temporarily, regardless of its scope, purpose or meaning.
3) You are not allowed to use any images, logos, renders, screenshots, captions, quotes, etc. without the permission of the authors.
G. Agreement
1) When you purchase any products created by AliensBuilds, you automatically agree on Terms of Service.
2) It is your responsibility to view updates to these ToS in parallel. In the event of major changes, we may notify you of such changes.
3) These ToS are valid for as long as you use or are part of AliensBuilds' services or products.